Russia-China Trade
Trade between Russia and China has grown rapidly as the leaders of both countries have committed to advancing bilateral economic cooperation. The two countries are reducing the use of US dollar in bilateral trade in favor of their own currencies, calling attention to the importance of their economic relationship.
Bilateral trade volume between the two countries reached nearly $107 billion in 2018 (+27.1 % YoY, which was ranked the No.1 of China's top ten trading partners).
According to forecasts, bilateral commerce could grow up to $200 billion in 2020 if the two countries continue to nurture the right conditions for trade investment growth. The total trading value between Russia and China has grown ca. 10 % p.a. in the past 10 years.
Historical Trading Value Trend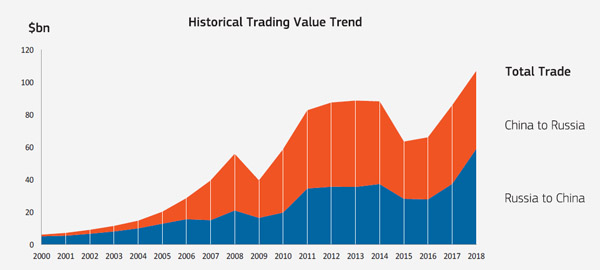 Source: General Administration of Customs of People's Republic of China